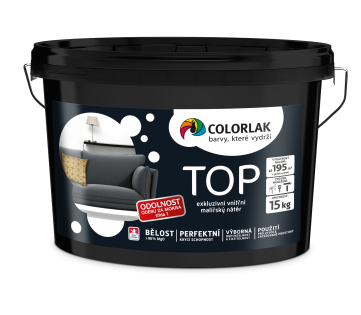 TOP V2519
exclusive interior paint
TOP V2519 is a white, smooth, matt, dispersion interior paint of highest quality. TOP is characterized by high resistance to wet rubbing, excellent vapour permeability, high whiteness and excellent bonding and adhesion to the substrate. TOP is intended for immediate application to masonry, lime, lime-cement, dispersion and redevelopment plasters, plasterboard, concrete, fibreboard and particleboards, high-pressure laminate and over coating of old paint. TOP is used for the coating of various modern interiors (flats, homes, offices, hotels, hospitals, etc.) with a requirement for excellent washability, high whiteness and excellent adhesion on the substrate. TOP is also used to adjust the tint density – mixing with the ELEGANT V2025 or COLOR V2005 coloured variants. SÁDROKARTON meets the requirements for surface coatings that may come into direct or indirect contact with food.
PROINTERIÉR
The product has Certificate No. ZN-001-17 on conformity of properties with the requirements of the Decree No. 6/2003 laying down hygienic limits of chemical, physical and biological indicators for the internal environment of residential rooms of certain constructions, under § 108 paragraph. 1 of Act no. 258/2000 Coll.
The paint is suitable for the indoor environment of residential rooms such as doctor's office, health care facilities, facilities for education, universities, open air school facilities, buildings for recovery activities, buildings of health care facilities for preventive care, social care institutions, accommodation facilities, buildings for trade and production and buildings for gathering more people.
Advantages




Packing
1,5 kg / 5 kg / 15 kg / 25 kg / 40 kg
Thinner
water
These shades in electronic form are only indicative.