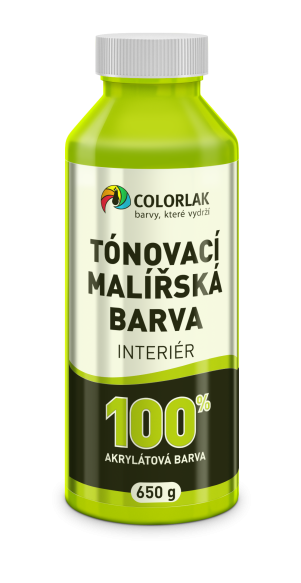 TÓNOVACÍ MALÍŘSKÁ BARVA V2525
tónovací interiérová malířská barva
TÓNOVACÍ MALÍŘSKÁ BARVA V2525 is matt, liquid dispersion (acrylic) interior paint designed for instant tinting of all paint colours for interior use (dispersion, acrylic and glue). V2525 can also be applied directly in the form of a concentrate – especially for a variety of small decorative and artistic realizations and interior accessories.
The paint is intended for application to masonry, lime, lime-cement, dispersion and gypsum plasters, plasterboard, concrete, fibreboard and particleboards, and over coating of old paint in all types of common residential and commercial spaces. V2525 is characterized by its high resistance to dry abrasion, shade stability, excellent covering power, excellent adhesion to the substrate, but also offers the possibility to instantly tint own interesting shades.
V2525 can not be used on silicone, silicate and lime paints and for the colouring of concrete mixtures.
Advantages: </ strong>
high colour stability
excellent covering power</ li>
smooth matt surface
also suitable for direct application
high vapour permeability
17 rich shades
shades can also be combined
the saturation of these shades can be freely adjusted by mixing with a white paint colour, eg PLUS V2098 or EXTRA V2510