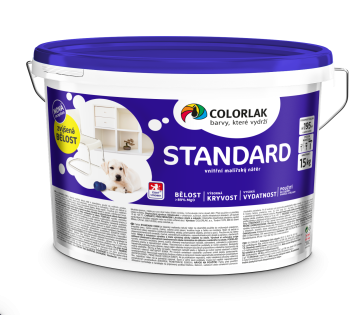 STANDARD V2006
interior paint
STANDARD V2006 is a white, matt, smooth, classic – clay interior paint for immediate use.
STANDARD features high covering power, vapour permeability, spreading capacity, rapid drying and increased whiteness (89% MgO).
V2006 STANDARD is designed for painting of lime-cement plasters, masonry, wood, chipboard, fibreboard and cement-bonded particleboard, concrete panels and lightweight panels. STANDARD is used for normal and low-maintenance interior coatings (utility rooms, warehouses, industrial buildings, cellars, etc.) with a requirement for high covering power, vapour permeability and affordability.
PROINTERIÉR
Advantages




Packing
5 kg / 7 kg / 15 kg / 25 kg / 40 kg
Thinner
water
These shades in electronic form are only indicative.