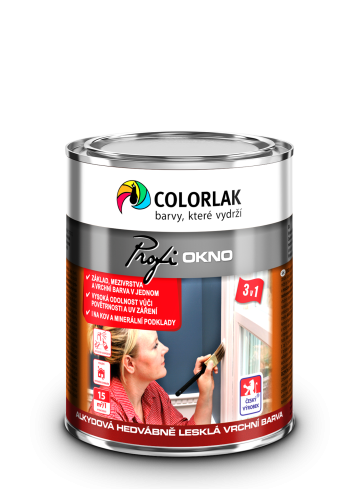 PROFI OKNO S2082
quick-drying alkyd top paint with silk gloss
S2082 paint is suitable for topcoats of wood and metals exposed to weathering, especially windows and doors, and can usually be used in the consistency supplied.
With the use of modern modified alkyd binders, drying acceleration is achieved over conventional synthetic paints while retaining their typical advantages – excellent brushability and pourability.
High content of high-quality pigments gives paint excellent covering power and weather stability, and special additives improve adhesion and increase hydrophobicity.
Old synthetic coatings can be over coated after previous cleaning and surface roughening.
Advantage of PROFI OKNA in wood coating, "3 in 1" is direct application, without primer, in 2-3 layers in the interval between layers of 10 hours. PROFI OKNO combines the qualities of high quality priming and top paint here.
S2082 must not be used to coat products that come in direct contact with food, feedstuffs and drinking water.
Advantages




Packing
0,6 l / 3,5 l / 9 l
Thinner
S6006, C6500, for spraying S6001 or in summer S6005
These shades in electronic form are only indicative.