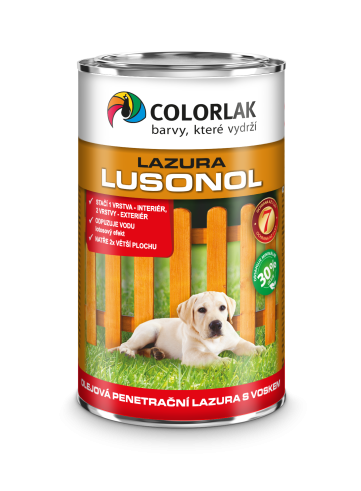 LUSONOL S1023
sealing glaze with a high proportion of natural oil
LUSONOL is designed for matt protective penetration coatings of wood exposed to weather as well as wood interior treatment.
LUSONOL preserves unique distinctive grain and structure of the wood.
High proportion of natural oil of the glazing penetrates deep into the wood structure and thus provides optimal long-term protection. The glazing is perfectly absorbed into the wood (it does not create a varnish layer on the surface) and therefore does not crack or peel and guarantees high vapour permeability – the wood breathes unrestrictedly.
Repair or maintenance coatings have the easiest way to prepare the substrate and application itself.
High quality pigments provide high resistance to weathering, especially UV radiation. Colourless variant C0000 is used as an additive under oil and synthetic paint, and is not suitable for direct exterior use.
For the protection of wood in the exterior or for demanding interior areas (cellars, laundries, etc.), it is recommended that the wood be impregnated with S1031 FUNGISTOP or LIGNOSTOP series.
Thanks to a unique formula with high proportion of natural oil (dry matter), only 2 coats are sufficient for protection in the exterior can be protected in the exterior compared to 3 ordinary coats! With LUSONOL you will save 33-50% of your time and total cost!!!
Advantages




Packing
0,9 l / 2,5 l / 8 l / 18 l
Thinner
it is not diluted
These shades in electronic form are only indicative.