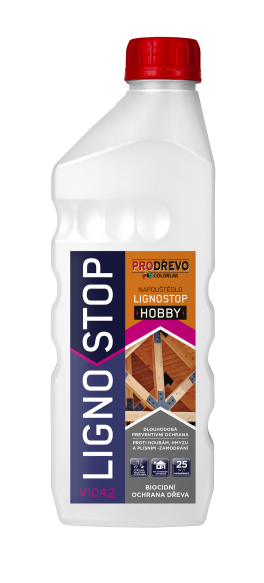 LIGNOSTOP HOBBY V1042
universal, permanent, concentrated preparation for protection of wood against fungi, moulds and wood-damaging insects
Highly concentrated water-based effective agent intended to be thorough and long-term preventive wood protection (more than 25 years) against wood-decaying fungi, including dry rot, water-colouring fungi, mildew and insect damage.
LIGNOSTOP HOBBY is available in colourless and green variant.
Remedial efficacy against fungi and moulds affected by fungi and their protection against new infestation. For temporary protection of raw lumber against blue stain and mildew.
Highly effective chemical compounds are fixed in the wood even after only partial drying (approx. 2 hours) and then they are completely nonleachable by water. This means that the treated wood can be during storage or installation exposed to rain, while the effectiveness of protective substances does not change.
V1042 is used alone or can be used under water-based or solvent-based paint systems (varnishes, glazing varnishes, primers, single coat paints).
Surfaces treated with LIGNOSTOP HOBBY must not come into contact with food, feedstuffs and drinking water, and the product may not be used for children's furniture coatings.
"Use biocidal products safely. Always read the data on the packaging and the accompanying product information before use."
Advantages




Packing
1 l / 5 l / 10 l
Thinner
water