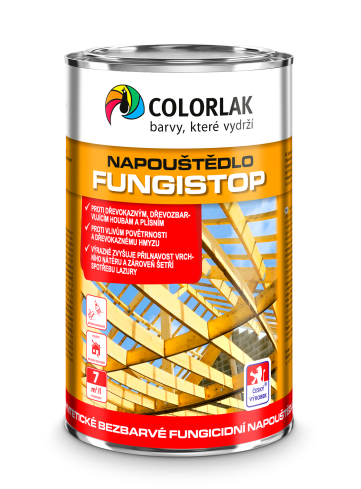 FUNGISTOP S1031
colourless synthetic fungicidal impregnant for wood
FUNGISTOP is designed to protect wood against wood-staining fungi, wood-decaying fungi, insects, partly weather and it is ideal under synthetic and water-based coating systems for indoor and outdoor use.
2 in 1 – FUNGISTOP protects wood against biological attack and at the same time penetrates deep into wood and unites its absorbency.
Impregnation agent S1031 contains fungicides that guarantee excellent protection of wood against mould, wood-decaying and wood-staining fungi, max. dangerousness 2 (interiors insufficiently protected against increased humidity) and 3 (outdoors outside permanent contact with the ground) according to EN 335 -1,2.
FUNGISTOP is available in a colourless variant and is therefore suitable for colourless varnishes and glazes, as well as opaque colours.
Surfaces coated with S1031 must not come into contact with food, feedstuffs and drinking water and the product should not be used for toys and children's furniture.
"Use biocidal products safely. Always read the data on the packaging and the accompanying product information before use."
Advantages


Packing
0,9 l / 2,5 l / 9 l / 18 l
Thinner
it is not diluted