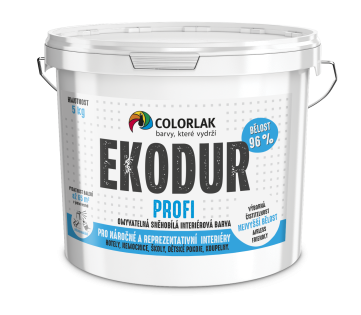 EKODUR PROFI BÁZE E0503
professional disperse interior paint
Professional interior painting of the highest quality. It is characterized by excellent hiding power and shade stability, high washability (wet scratch resistance class 1, according to ČSN 13300) repeatable cleaning and abrasion resistance. EKODUR PROFI is designed for representative spaces, hospitals and areas with higher adhesion and resistance requirements.
The product has Certificate No. ZN-001-17 on conformity of properties with the requirements of the Decree No. 6/2003 laying down hygienic limits of chemical, physical and biological indicators for the internal environment of residential rooms of certain constructions, under § 108 paragraph. 1 of Act no. 258/2000 Coll.
The paint is suitable for the indoor environment of residential rooms such as doctor's office, health care facilities, facilities for education, universities, open air school facilities, buildings for recovery activities, buildings of health care facilities for preventive care, social care institutions, accommodation facilities, buildings for trade and production and buildings for gathering more people.
Advantages




Packing
1 kg / 5 kg / 12 kg / 20 kg
Thinner
water