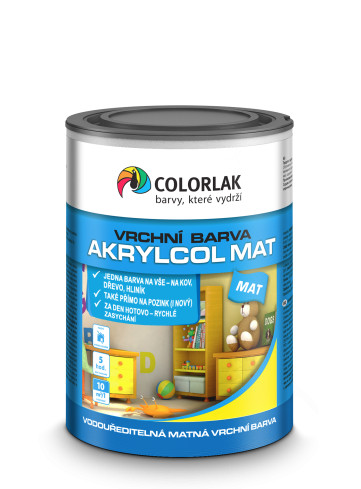 AKRYLCOL MAT V2045
water-soluble matte quick-drying top paint
AKRYLCOL MAT is used for various matt, highly resistant and fast-drying outdoor and indoor coatings of wood, wooden materials, metal (steel, aluminium, copper, galvanized materials), undamaged concrete, stone, unglazed ceramics, ceramic tiles, plasters, bricks, and paper.
V2045 can also be applied directly to the old and new galvanized material, without the need for a primer.
AKRYLCOL MAT can also be used for coatings for children's furniture and toys (EN 71 No. 3), and for selected plastics (such as ABS, hard PVC, polystyrene and polycarbonate).
The V2045 has a excellent resistance to weathering and UV light (non-yellowing), does not smell and dries quickly, whole coatings is done in one day.
Universal use of AKRYLCOL includes coatings of windows, doors, furniture, radiators, grates, shields, fences, gutters, skirting boards, walls, toys and furniture.
V2045 is suitable for coating products and spaces that come into indirect contact with drinking water, feedstuffs and food.
V2046 is available in the basic 15 shades range and also for tinting in the TSCL DECOR series.
Advantages




Packing
0,35 l / 0,6 l / 2,5 l / 9 l
Thinner
water
These shades in electronic form are only indicative.