All two-component paints (paints, varnishes, mastics, etc.) must be hardened before application – mixed with a suitable hardener in a precisely specified ratio. Without hardening the material can not be used. Incorrect hardening always influences the quality of the resulting paint and, in the extreme case, it can cause the total impairment of the mass.
It is therefore necessary to use the hardener specified by the manufacturer and to maintain its dosage. The substitution of different hardeners, as well as their different or very inaccurate dosages,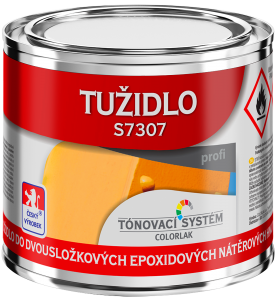 can not be tolerated. And it is clearly inappropriate to use hardeners of different brands and manufacturers.
It is necessary to adhere to the prescribed hardening and to distinguish whether they are stated in weight or volume ratio.
It is also necessary to know the pot life of the hardened mass (the hardened mixture) and to adjust the total processed amount accordingly. Workability time is the total time (from the addition of hardener) over which the hardened mixture can be treated (applied). Once the pot life has elapsed, the hardened mixture cannot be used any more – the chemical reaction has already been irreversibly advanced and the remaining amount has to be discarded. It is a fact, that only the amount that will certainly be applied with time to spare is to be hardened.
The actual process of hardening – preparation of two-component paint is as follows:
We study the manufacturer's recommendations and observe the conditions for preparation and application.
We use only original and undamaged packaging (this is doubly true for hardener).
We mix the paint well (but we do not whip it).
We will only use the quantity that we process surely.
Add the exact amount of hardener to the coating material (weigh, measure).
Stir the blended mixture well and dilute according to the application method and the manufacturer's recommendations with the prescribed thinner, and stir well again.
As recommended by the manufacturer, let the mixture stand for a given period of time (especially for polyurethane and acrylate materials).
The application itself follows.