TÓNOVACÍ SYSTÉM COLORLAK – DEKOR – decorative paints for use mainly in construction and for individual applications.
TSCL DEKOR enables tinting of painting, façade paints and plasters under the EKOLAK brand, as well as selected synthetic and water-based paints from the COLORLAK range.
Interior paints:

BRILIANT MAT BÁZE V2091

EKODUR PROFI BÁZE E0503

EKODUR BÁZE E0502

EKODUR NATURAL BÁZE E0501

Façade paints:
FASAX BÁZE E0201
FASIKON BÁZE E0208
EKOFAS JZ BÁZE E0203

Decorative plasters:

KC PUTZ

EKOPUTZ

STRUKTUR PUTZ

EKOFAS BÁZE E0204

Glazings:
FORTELUX AQUA V1407
LUSONOL AQUA V1424
PROFI LAZURA S1025

Synthetic top coats:

PROFI EMAIL BÁZE S2085

SYNTECOL BÁZE S2161

SYNTERAL S2139

Water-based top coats:
AKRYLCOL MAT BÁZE V2045
AKRYLCOL LESK BÁZE V2046
AQUAREX BÁZE V2115
Hues and samplers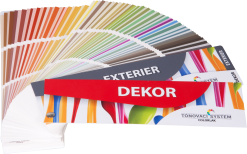 The shade range of tinted products is significantly enhanced in TSCL. Apart from the already used EXTERIER and INTERIER samplers for tinting paint and façade paints and plasters, there is the offer of DEKOR shades and e. g. according to the EUROTREND, RAL, COLORLAK, NCS and other templates. Other shades are tinted according to customer requirements.