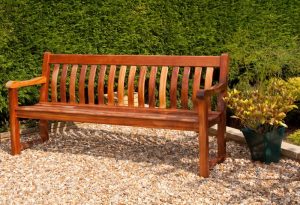 In order to maintain good properties of wooden building elements and especially the natural appearance in the long term, we must always treat the wood accordingly. An ideal solution is one-layer oil glazing with high proportion of solids. Its advantage is the concentrated solids content, which ensures not only a deep penetration into the wood with the application of only one layer, but also excellent resistance to weathering. Such a glazing is PROFI OLEJOVÁ LAZURA O1020 that is intended for the coating of wood, fibre-boards, and similar porous materials based on wood, for the exterior and interior use. PROFI OLEJOVÁ LAZURA O1020 is especially intended for protection of wooden surfaces and structural elements of wooden structures, such as houses, chalets, log huts, fences, and pergolas, in the exterior directly exposed to weather effects.
PROFI OLEJOVÁ LAZURA O1020 is applied by brush or roller to the prepared surface (clean, free of residual resin, possibly treated by grinding). The method of preparation of the substrate influences not only the final appearance of the treated surface but also the wood protection period.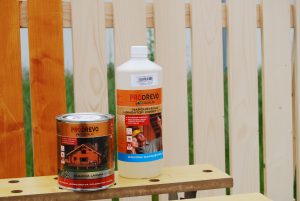 Recommended work flow.
To enhance protection against wood-decaying fungi, moulds and wood-destroying insects, first impregnate the substrate with impregnating agent LIGNOSTOP HOBBY V1042. The product is diluted by water according to the instructions on the product packaging. Apply by brush or roller.
2. After the impregnation coat has dried (approx. 24hrs), apply a layer of PROFI OLEJOVÁ LAZURA O1020 in the desired shade. Mix the glazing thoroughly before application, but do not dilute. The glazing is applied by a brush or a roller. Apply such an amount to maintain a continuous coating on the surface, which is mostly absorbed into the substrate for within 0.5 hour.
3. Approximately 0.5 hour after the application remove the remaining amount of the glazing by a cloth. We will not only get a better look, but also smoother surface of the wood, because the wood fibres have the ability to raise to the surface of the woods and create a rough surface after drying.
Advantages of the described procedure:
Coating by Profi olejová lazura will ensure wood protection in the exterior for a minimum of 5-8 years. For further protection after this time it is sufficient to apply only refreshing layer of originally used Profi olejová lazura O1020 (spreading capacity when refreshing can be up to 25 m2/Ltr).
Profi olejová lazura contains high proportion of solids – more than 70 % of the composition is active solid content that remains impregnated in the wood structure, therefore only one layer of the coating is necessary for perfect protection (as opposed to conventional penetrating glazes, where up to 3 coats are necessary). Therefore, it is sometimes referred to as single-layer.
Applying only one layer saves plenty of time (usually next layers can be applied after 12-24 hours).
Profi olejová lazura can be used also on wood with higher degree of moisture content (so-called carpentry elements with a moisture content of up to 20%).
Profi olejová lazura is vapour-permeable (wood breathes).
Profi olejová lazura can be used for children's furniture and toys (certificate EN-71, part 3).