Well-proven classic anticorrosive protection for steel is the primer SYNOREX PRIMER S2000 and then the top paint UNIVERZAL SU2013 (the widest shade range and choice of glossy or matt version).
In the range of one-layer paints semi-matt PROTIREZ S2015 with excellent anticorrosive protection and quick drying can be recommended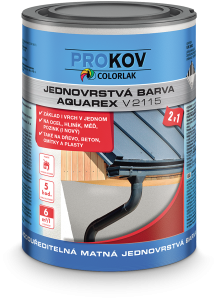 For surface treatment of galvanized constructions (e. g. load-bearing structures of roofs, pillars and masts) for common environments, ZINOREX S2211 "2in1" is intended as a solvent version, or water-soluble version AQUAREX V2115.
In the case of high resistance requirements, on galvanized materials and titanium zinc or steel, the one-layer semi-matt paint "2in1" AXAPUR U2218 is designed.
For high anticorrosive, mechanical and chemical resistance, the epoxy coating system EPAX S2381 is used with the primer AXAPUR PRIMER U2008. For larger volumes, EPAX 2318 and EPAX S2381 can be used as a topcoat.
These are highly resistant coatings, designed primarily for areas that are not exposed to the sun, but are, for example, permanently exposed to moisture or water immersion.